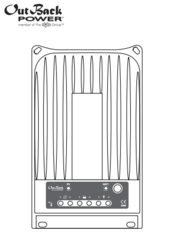 Features
» 12V/24V automatically identified or user-defined working voltage.
» Cast aluminum chassis provides excellent heat dissipation.
» Advanced maximum power point tracking technology optimizes the PV system, providing peak conversion efficiency as high as 98%.
» The controller provides the industry's highest tracking efficiency of 99%.
» Supports 4 charging options: Sealed, Gel, Flooded and User-defined.
» The FLEXmax 30/40 Series compensates for temperature and corrects the charging and discharging parameters automatically, improving the battery life.
» The FLEXmax 30/40 Series offers protection from high temperatures, over charging, PV and load short, PV (battery) revered, and over current.
---