When you need to replace your old 2V traction battery, you need to be sure you get the right battery for the job. That's why we need to ask you some questions before we can help you buy the right battery for your needs.
Please take a minute to read our Battery Identification Guide and complete the form below, so we can help
Forklift/Multi-cell Battery Identification
In order to speed up the quoting process it would help us considerably if you could supply some useful information to assist in identifying the Cell Type/Size required.
I.D Plate/Sticker
All batteries come with some form of I.D plate or sticker, this plate will be located somewhere on the steel box in which the cells are fitted. The following information can be found on this plate.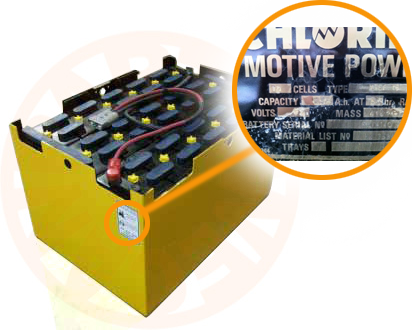 Cell Type – This reference usually consists of a mixture of both letters and numbers. Three examples of the same cell type:
Battery Capacity – The battery capacity, generally a 3 digit number which is rated in "ah c5". Based on the cell type above this would read "375ah c5" Unfortunately this I.D plate can all to often can be missing, painted over or become illegible. If this is the case the measurements of a single cell/battery will do just as well, again based on the cell above this would be "195/8mm long x 65mm wide x 570mm high" The height can be the most difficult measurement to obtain, however a rough guide will do.